03 Nov

Is Blockchain Ready to Transact IoT Business?

Posted at 07:00h

in

1. IOT COMPONENTS

,

2. SERVICE PROVIDERS

,

4. MARKET

,

COMMERCIAL IOT

,

Consultant

,

CONSUMER IOT

,

INDUSTRIAL IOT

,

INFRASTRUCTURE IOT

,

MEDIA

,

Podcasts

,

Security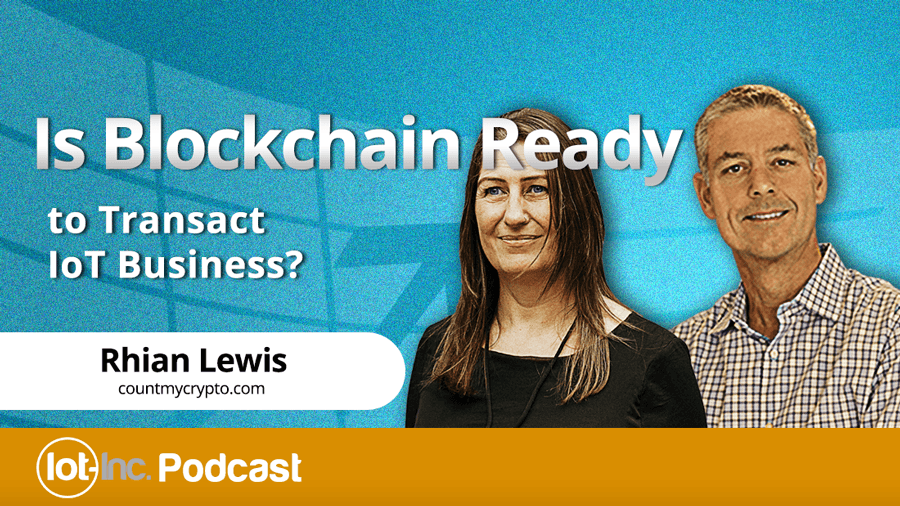 Is blockchain ready to transact IoT business? That's the question I've been trying to answer during this mini series. While the quest has been intellectually interesting and frustrating at the same time, the answer is a resounding "no." Although the tech is cool, blockchain is nowhere near ready to be used for business within the budgetable future. In this episode of the IoT business show I speak with Rhian Lewis about the promise and challenges of transacting with blockchain, Ethereum and cryptocurrencies in IoT.
In this episode of the IoT Business Show, I speak with Rhian Lewis about the promise and challenges of transacting with blockchain, Ethereum and cryptocurrencies in IoT.
Rhian is an independent technology consultant specialising in blockchain. She provides technical support, training and strategic advice to clients and is also the co-developer and co-founder of the cryptocurrency portfolio tracker countmycrypto.com.
I really wanted this to work. The IoT use cases are compelling and the thought of using blockchain to enable the frictionless monetization of the IoT ecosystem, was for me, blockchain's IoT killer app. But it turned out to be too good to be true. Transactional speed and transaction fees just aren't there yet; not to mention the need to adopt an entirely new Internet architecture. Having said that, I'm not writing it off. Whether or not the underlying tech stays the same is hard to say but the premise of decentralization to eliminate the middleman and to establish trust is too strong and too seductive not to come true. Why? Because the incentives to move to this frictionless ecommerce world are too great and are needed for the Internet and the Internet of Things to move to their next stage of evolution.
Here's What We'll Cover in this Episode
Cryptocurrency as a reward for your data.
The weakest link in the blockchain for trust and a potential remedy for it.
Centralized versus decentralized trust and who's going to win.
Some performance metrics for Ethereum transactions and it's not pretty.
The volatility of crypto transaction fees.
Starting use cases for blockchain in IoT.
Blockchain as a service.
The issue of scale – it's a buzzkill.
Mentioned in this Episode and Other Useful Links
If you have been enjoying this podcast, there are a few ways you can support it:
Share it on social by clicking on the widget on the left or bottom of the page.
Click here to open iTunes and leave a one-click review or write your thoughts.
Consider becoming a Certified IoT Professional by enrolling in the ICIP online training program.

Ways to Subscribe to the IoT Business Show