29 Jan

From Embedded Operating Systems to Software Ecosystems

Posted at 08:30h

in

1. IOT COMPONENTS

,

2. SERVICE PROVIDERS

,

4. MARKET

,

COMMERCIAL IOT

,

CONSUMER IOT

,

Embedded & Modules

,

INDUSTRIAL IOT

,

INFRASTRUCTURE IOT

,

MEDIA

,

Podcasts

,

Sensors & Actuators

,

Vendor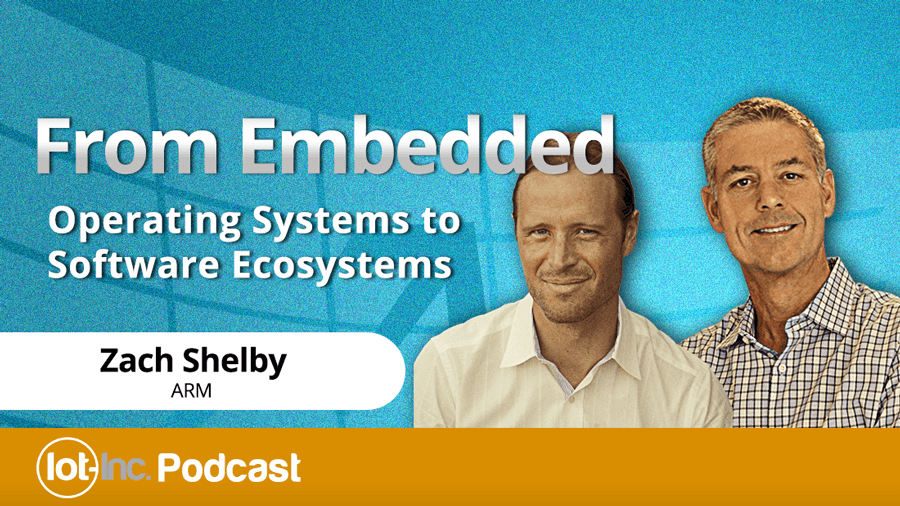 In broad strokes, the software required for an IoT deployment can be grouped into four classes: embedded software for sensors and gateways, networking or the IoT platform (communication, rules and sometimes interpretation) data management & analytics and of course the IoT application. In this episode of the IoT Inc Business Show, I discuss the first class, embedded software for sensors, or more specifically, sensor operating systems, with Zach Shelby and the inevitable evolution of these disparate classes into an IoT software ecosystem.
In this episode of the IoT Inc Business Show, I discuss sensor operating systems with Zach Shelby and the inevitable evolution of these disparate OS classes into an IoT software ecosystem.
Zach is VP of Marketing for Internet of Things at ARM – but don't let that fool you – he's a serious techie at heart. He's worked on IoT standards, cofounded the start-up, SenSiNode (acquired by ARM), where he acted as CEO and CTO and has co-authored a book on 6LowPAN with Carsten Bormann.
Today a substantial amount of time and money goes into stitching together the four classes of IoT software into a single Internet of Things product or service. Furthermore the software is usually written to a specific set of hardware and cloud interfaces. Wouldn't it be nice if there were IoT ecosystems, like Android and iOS in the mobile space? Zach believes the trend for 2015 is the IoT software ecosystems. Me, I'm not as sure it will come that quickly but I like the idea. Listen to this episode to understand the business ramifications of sensor software today and the implications of upcoming IoT ecosystems.
Here's What We'll Cover in this Episode
The complementary roles of standards bodies and IoT alliances/consortiums/groups
The three types of operating systems found in microcontrollers
Examples of the most popular low power operating systems today
The uniqueness of real-time operating systems and why they are going to be around for some time yet
The IoT software ecosystem

Definition
Functionality
Today's choices and where more will come from in the future

Business advice on choosing your IoT software
Mentioned in this Episode and Other Useful Links
If you have been enjoying this podcast, there are a few ways you can support it:
Share it on social by clicking on the widget on the left or bottom of the page.
Click here to open iTunes and leave a one-click review or write your thoughts.
Consider becoming a Certified IoT Professional by enrolling in the ICIP online training program.

Ways to Subscribe to the IoT Business Show