02 Sep

IIoT Manufacturing From the Shop Floor to the Top Floor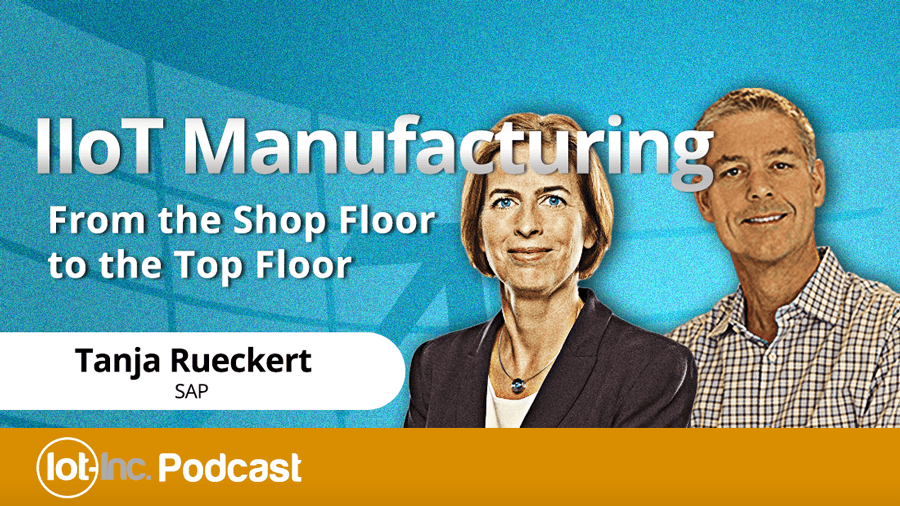 It's no secret that the IIoT is enabling manufacturing to go through its next revolution. Some call it Industrie 4.0, but it goes further than the shop floor. The Industrial Internet (of Things) is virtualizing the entire manufacturing industry from supply chain to factory to distribution and along the way is having a profound effect on the workforce and the equipment used. In this episode of the IoT Business Show I speak with Tanja Rueckert about the hot topics of connected manufacturing and asset intelligence.
In this episode of the IoT Business Show, I speak with Tanja Rueckert about the hot topics of connected manufacturing and asset intelligence.
Tanja is EVP of the IoT business unit at SAP with end-to-end responsibility for all areas of manufacturing, supply chain management, asset management, Internet of Things & Industrie 4.0.
Many believe the Industrial Internet (of Things) and Industrie 4.0 are synonymous. They're not. Think of IIoT as big picture – manufacturing as a noun. Think of Industrie 4.0 as making things – manufacturing as a verb. Both however are contributing to the area of mass customized manufacturing. At a high-level the concept is to have a factory capable of creating "batch of 1" products in mass production and at full speed. Today few products, like high-end vehicles, are customizable and made to spec. For example, an old friend of mine went to Leipzig, Germany last year to watch his customized Porsche roll off the assembly line – which he then proceeded to drive around Europe before it was shipped home! Now you're not going to pick up all your purchases at the factory but look around you. Observe all the products in your sight. It's not hard to imagine how a little personalization through customizations such as labeling, color, finish and configuration would increase the perceived value of almost any product. Now imagine mass producing these items for no extra costs. That's mass customized manufacturing and it is made possible with IIoT by virtualizing the manufacturing process from the shop floor to the top floor.
Here's What We'll Cover in this Episode
How in memory technology and storage layering is used by SAP's platform.
The Thing Model – what I call the Cyber Model and not to be confused with the Digital Twin.
The difference between Industrie 4.0 and the Industrial Internet of Things and why they're complementary.
Why connecting OT and IT is so important.
The big picture around mass customized manufacturing.
The big picture asset intelligence.
Mentioned in this Episode and Other Useful Links
If you have been enjoying this podcast, there are a few ways you can support it:
Share it on social by clicking on the widget on the left or bottom of the page.
Click here to open iTunes and leave a one-click review or write your thoughts.
Consider becoming a Certified IoT Professional by enrolling in the ICIP online training program.

Ways to Subscribe to the IoT Business Show