01 Oct

Would you Like a Network with those Street Lights?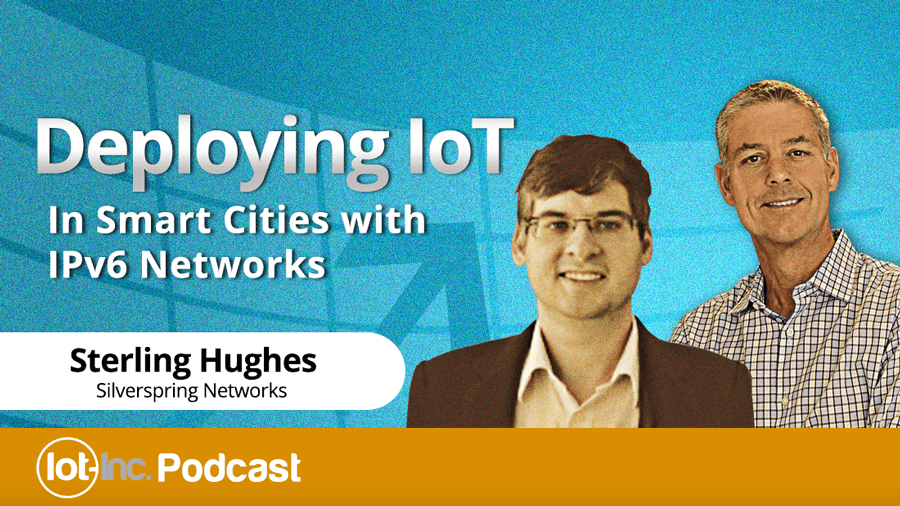 Wondering how IoT is being rolled out in cities? Look up… into the light. Streetlights are the perfect steppingstone to produce smart cities. Changing their bulbs to LEDs pay for themselves in 3-5 years but also present the opportunity to build out wireless mesh networks. These elevated networks allow more lighting control/efficiency and provide the foundation for other smart city services such as power and parking. In this episode of The IoT Business Show, I speak with Sterling Hughes about lessons learned in deploying Silversping's networks in cities around the world. This is encore episode 4, of 4, which originally played in the IPv6 Show podcast.
I speak with Sterling Hughes about lessons learned in deploying Silversping's IoT networks in cities around the world.
Sterling has been developing and deploying IPv6 networks for the Internet of Things for years. In fact Silver Spring is currently on their 2.0 version so lots of lessons have been learned from their early deployments. Listen to this episode to learn what he learned and to hear Sterling's thoughts on standardization in the IoT space – where we are today and where things are headed.
Here's What We'll Cover in this Episode
Why street lights are an ideal first IoT application for smart cities and their ROI
How IoT can squeeze extra efficiencies out of LED lighting systems
Two main reasons that absolutely justify using IP in general for IoT
Why implement with IoT with IPv6 versus IPv4
Details on Silver Spring's multi-homed mesh network implementation
Current state of standardization in IoT and where it needs to go next
Two main lessons learned in smart city network design that were incorporated in version 2.0 of Silver Spring's mesh networking tech
Mentioned in this Episode and Other Useful Links
If you have been enjoying this podcast, there are a few ways you can support it:
Share it on social by clicking on the widget on the left or bottom of the page.
Click here to open iTunes and leave a one-click review or write your thoughts.
Consider becoming a Certified IoT Professional by enrolling in the ICIP online training program.

Ways to Subscribe to the IoT Business Show