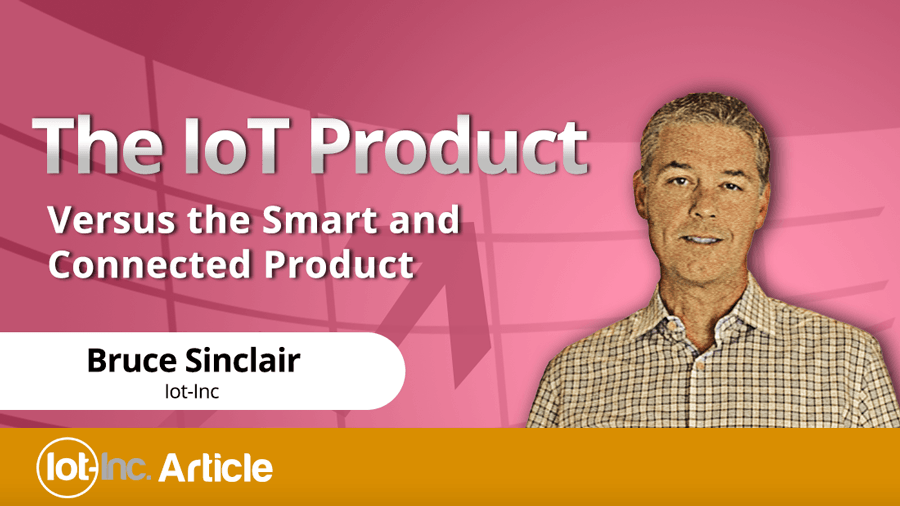 16 May

The IoT Product Versus the Smart and Connected Product

Not too long ago I gave the opening speech at an IoT startup festival. Before the 10 start-ups pitched their wares, my talk was designed to help the audience and judges gauge the sophistication of each company's offering.
An IoT product is more valuable than a connected product or a smart product or even a smart, connected product.
An IoT product is more valuable than a connected product or a smart product or even a smart, connected product.
The most important distinction is at the core of the IoT product – the software-defined product. The software-defined product, sometimes referred to as the digital twin, consists of two main components: the cyber model and product app. Together with analytics they are what I call, the trio of value. The model quantifies the incremental value an IoT product delivers. For example, the value proposition of an IoT clothes dryer could be to dry clothes as cost effectively as possible. In that case the value model is a function of ventilation and heat, the two causes of evaporation, and energy pricing that determines cost. The model:
Energy = f (fan speed, angular velocity of drum, heater temperature, energy price)
determines the data we need, which influences the sensors and external services we choose, which in turn drives the product's requirements. The application orchestrates this data collection and the analytics works on the same model to do things like predict when the load will be ready and how much it will cost. It is this virtualization of hardware that enables the IoT product to interface with the Internet like software.
Perhaps it's not important but I'm a stickler on nomenclature. For me, a connected product conjures up the picture of a product being remotely controlled by a mobile device, something my company was doing 8 years ago. How much is that worth today? A smart product is what we've had for the last 50 years after we started embedding MCUs within products to empower local intelligence starting with the Lunar Guidance Computer. Where's the incremental value there? A term used these days is, smart, connected product, which in addition to being a mouthful, doesn't capture the true strength of the IoT product. An IoT product, by definition, utilizes the full power of the Internet to create incremental value. Although it doesn't have a great ring to it, I'm going to stick with IoT product for now.
Mentioned in this Episode and Other Useful Links
Get the first chapter of Bruce's book, IoT Inc.