05 Aug

Privacy by Design in the Internet of Things

Posted at 06:00h

in

2. SERVICE PROVIDERS

,

3. BUSINESS

,

4. MARKET

,

COMMERCIAL IOT

,

CONSUMER IOT

,

Enterprise

,

INDUSTRIAL IOT

,

INFRASTRUCTURE IOT

,

Podcasts

,

Risk Management

,

Smart Homes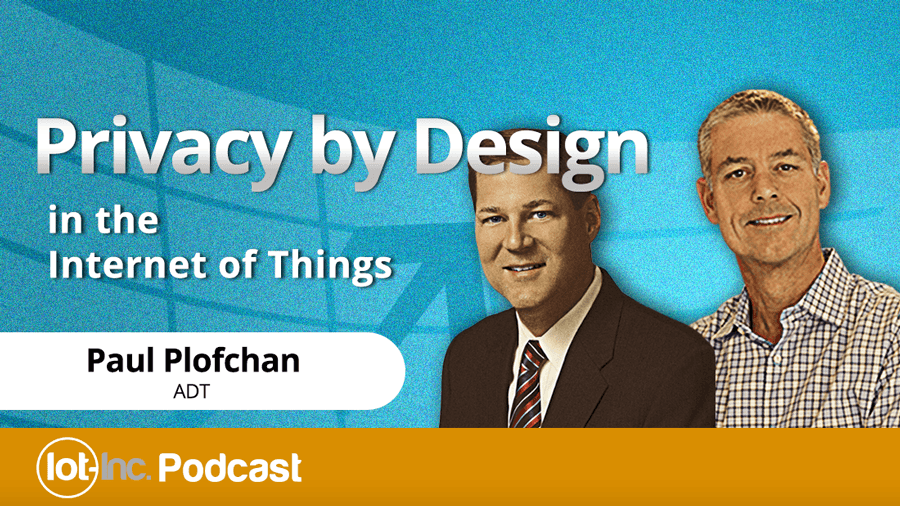 Repeat this mantra: Privacy by Design, Privacy by Design. Although, Security by Design is a best practice followed by IoT companies in the know, its business counterpart, related to risk, isn't chanted nearly as often as it should be. Privacy by Design should be repeated with every second breath. In this episode of the IoT Business Show I speak with Paul Plofchan about Privacy by Design and other privacy best practices.
In this episode of the IoT Business Show, I speak with Paul Plofchan about Privacy by Design and other privacy best practices.
Paul is Vice President of Government Affairs and Chief Privacy Officer for home security company, ADT. Paul leads ADT's political engagement and public policy strategy. He's also a leader within the company's data stewardship program, focused on fostering customer and employee trust.
Unlike with Security by Design in IoT security that is solely in the wheelhouse of development, Privacy by Design takes a village. A broad stakeholder group consisting of a cross-functional team should be put together to discuss questions like: Why are we collecting this data: How are we communicating this transparently to our customers? Under what terms are we going to keep it and not keep it? Where are we going to keep it and for how long? These questions should be asked at each phase of the development cycle: during requirements, design, development, testing and release, with marketing answering about communications, IT answering about storage, management answering about policy and legal answering about liability. This cross-functional team is not just for large corporations; startups can as easily fill the roles. That's not the hard part. The hard part is making this a best practice that becomes part of your IoT company's culture.
Here's What We'll Cover in this Episode
How your company can influence privacy policy.
PERS (Personal Emergency Responders).
Top 6 privacy questions every IoT organization needs to answer.
The concept of the trust structure.
Different regulatory issues you should be aware of.
Reasons why businesses need to approach consumer protections differently.
The special concerns regarding privacy within the home.
The starting point for your privacy best practices.
Mentioned in this Episode and Other Useful Links
If you have been enjoying this podcast, there are a few ways you can support it:
Share it on social by clicking on the widget on the left or bottom of the page.
Click here to open iTunes and leave a one-click review or write your thoughts.
Consider becoming a Certified IoT Professional by enrolling in the ICIP online training program.

Ways to Subscribe to the IoT Business Show