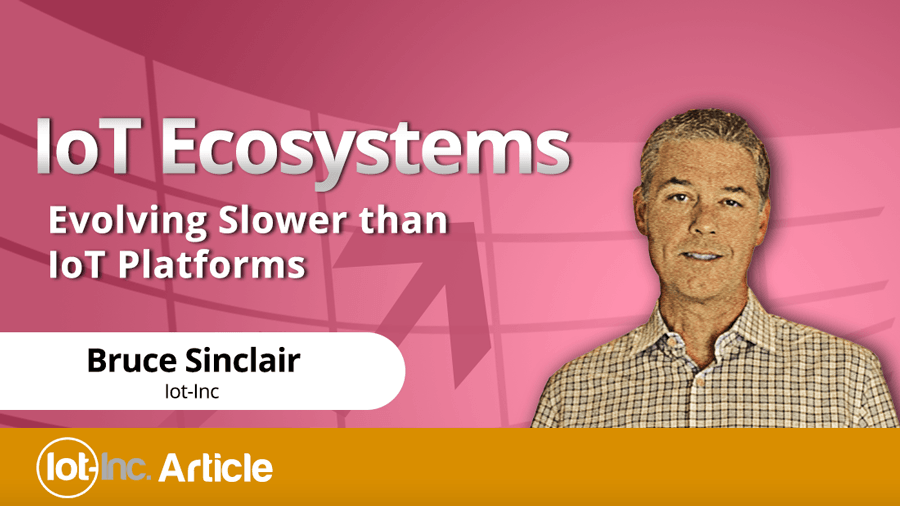 22 Jul

IoT Ecosystems Evolving Slower than IoT Platforms

Being the largest IoT conference today, Internet of Things World reflects the state of the IoT industry, albeit skewed more toward consumer and commercial IoT than industrial and infrastructure IoT. With over 10,000 attendees descending on Santa Clara in May 2016, the sample size was significant. My opening keynote speech, Realizing the Business Promise of IoT (see video and audio) presented the main IoT challenge: how we get from where we are today to an outcome-based economy. Keys to reaching an outcome-based economy are the parallel and interdependent paths of IoT tech (platform) and IoT business (ecosystem).
The ecosystem is not to be confused with the platform. An IoT platform is the technical underpinning of an ecosystem while the ecosystem consists of the producers and consumers of the platform and its associated products, coming together to monetize the tech within an industry segment.
IoT World demonstrated that IoT tech and business are not evolving at the same pace. There were over 100 platforms represented but very few ecosystems were present once you parse out the platforms mistakenly calling themselves ecosystems. But this makes sense, ecosystems will take longer because they are more complicated. Not that the tech behind platforms is easy, because it's not… it's just that ecosystems involves wetware (people) instead of software, which always complicates things. Partnerships must be established and business models agreed upon. The first step is to bring the players together in one place, mix them all together and see what sticks. Hmm, sounds a lot like IoT World 2106.
Get the first chapter of Bruce's book, IoT Inc.