02 Mar

The OIC – Toward a Broad and Bold Interconnected Vision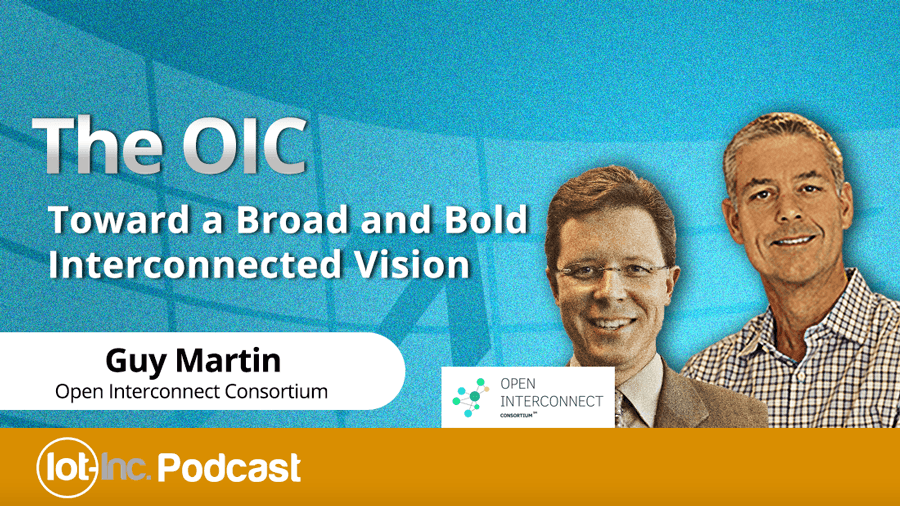 There are five main IoT alliances/consortiums/groups focused on the Internet of Things and I interview them all. The Internet Protocol for Smart Object (IPSO) Alliance has been around for a while but the Open Interconnect Consortium (OIC), the Thread group, the Industrial Internet Consortium (IIC) and the Allseen Alliance have sprung up recently. Depending on your focus, one or more of these organizations and are worth looking into when starting your IoT journey. In this episode of the IoT Inc Business Show, I discuss the second organization, the Open Interconnect Consortium, with Guy Martin.
In this episode of the IoT Inc Business Show, I discuss the second organization, the Open Interconnect Consortium, with Guy Martin.
Guy is Senior Strategist for the Samsung Open Source Group and has over 20 years of experience in software engineering, technical marketing and community management. He's also Head of Digital Marketing at the Open Interconnect Consortium. The OIC is a non-profit founded by leading tech companies with the goal of defining the connectivity and interoperability requirements for the billions of devices that will make up the Internet of Things.
The OIC has a broad scope — abstract everything below the application layer for all IoT industries… that's all. Their approach make a lot of sense — a tag team of a standard and an open source implementation. It's a lot of work but if they pull it off, it could advance the state of the IoT industry by years, by tearing down IoT's silos and custom fortifications. Of course the devil is in the details so listen to this episode to see if the OIC is right for your company.
Here's What We'll Cover in this Episode
Why the OIC was started
The OIC's vision of building an Interstate highway between all IoT verticals
Why Thread is not a competitor, their liaison agreement with the IIC and why they think they have a better solution than the Allseen Alliance
IoTivity – their open source project based on the Apache 2.0 licensing and governance model
The three levels of membership – what you get and how much they cost
Why OIC believes a RESTful API is a better choice than a DBus daemon architecture
Details on their certification plans and how it relates to their brand promise
The OIC's intellectual property policy
Mentioned in this Episode and Other Useful Links
If you have been enjoying this podcast, there are a few ways you can support it:
Share it on social by clicking on the widget on the left or bottom of the page.
Click here to open iTunes and leave a one-click review or write your thoughts.
Consider becoming a Certified IoT Professional by enrolling in the ICIP online training program.

Ways to Subscribe to the IoT Business Show