08 Jul

Horizontal IoT Data and the Internet of Things Platform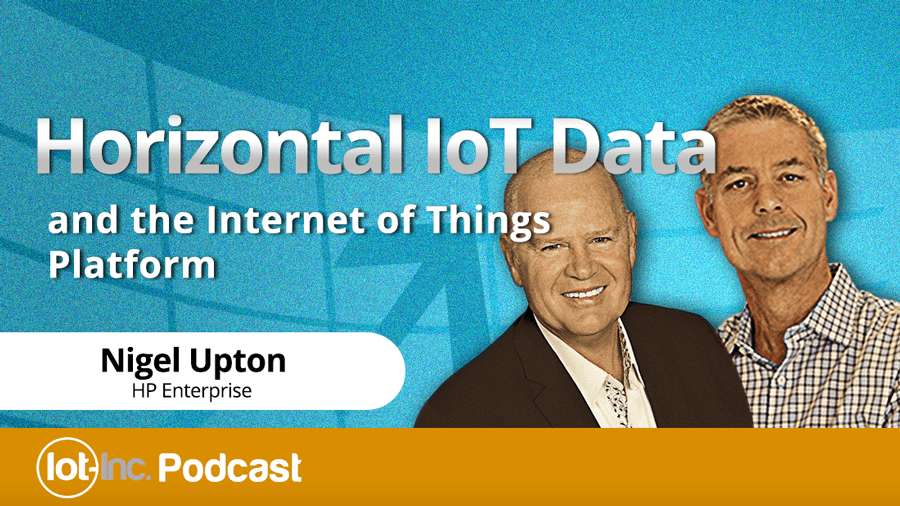 IoT platforms are commonly used to develop stand-alone IoT products, systems, environments but what do you do when you want to connect multiple IoT products? The outcome-based economy depends on it and the key lies in using platforms of platforms or common data models. In this episode of the IoT Show I speak with Nigel Upton about the importance of the horizontal data model when choosing your IoT platform.
In this episode of the IoT Business Show, I speak with Nigel Upton about the importance of the horizontal data model when choosing your IoT platform.
Nigel is Director & General Manager of IoT solutions at HP Enterprise. Nigel has led multiple businesses at HPE in Telco, Unified Communications, Alliances and software development.
In the outcome-based economy, multiple point solution products are orchestrated to work together to deliver a desired customer outcome. For this to happen, individual products and their respective platforms must be able to communicate. This is evolving to mean that these products/platforms are brought together by a meta IoT platform architecture or as we discuss in this podcast, the products/platforms share a common horizontal data model. This horizontal data model can be thought of as the fourth layer of standardization in IoT. The first layer is the media layer, which standardizes the radios used for wireless communication between IoT devices like sensors and actuators.
The second layer is the network layer, which standardizes the network IoT protocols used to move the data over the fog (IT and OT networks).
The third layer is the application layer, which standardizes the contextual data that goes along with the data payload for efficient consumption by the app.
The fourth layer is what we are discussing here. It standardizes the data options that can be chosen from to be included in the application layer. It establishes a common vocabulary to be used between IoT applications/platforms so when common data is used in different products, its meta data is structured in the same way. It is this common data structure that allows for horizontal communication between IoT products and platforms.
Here's What We'll Cover in this Episode
How digitizing the entire value chain requires a common horizontal data model.
The top five areas to consider when choosing your Internet of Things platform.
The difference between vertical data flow and horizontal data flow.
What's going to thin out the 300+ IoT platforms out there.
The application development environment for building product micro services.
The max price point per device that you should be paying when leasing an IoT platform.
Factors to consider when marrying an analytics platform to an IoT platform.
Mentioned in this Episode and Other Useful Links
If you have been enjoying this podcast, there are a few ways you can support it:
Share it on social by clicking on the widget on the left or bottom of the page.
Click here to open iTunes and leave a one-click review or write your thoughts.
Consider becoming a Certified IoT Professional by enrolling in the ICIP online training program.

Ways to Subscribe to the IoT Business Show