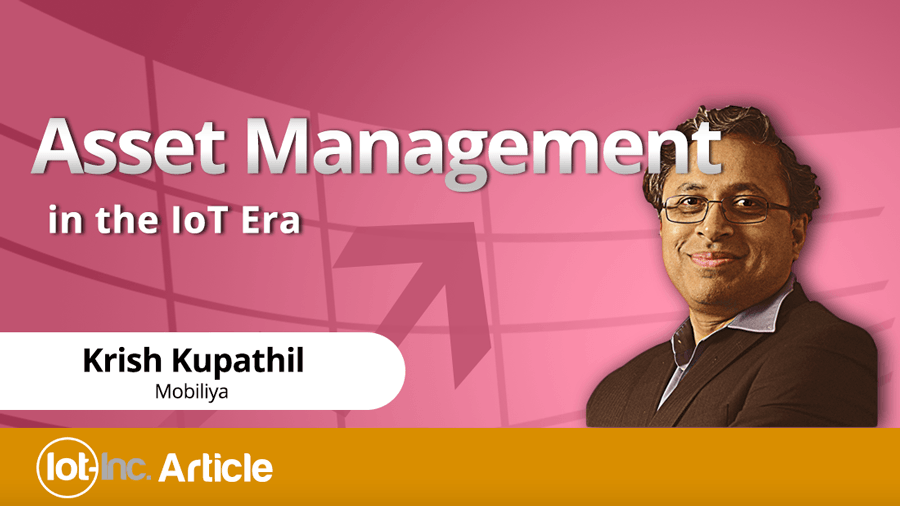 20 Jun

Asset Management in the IoT Era

In 2014, InsuranceNews.net conducted a survey to measure how global businesses and corporations were affected by supply chain disruptions. 110 companies across various domains from Germany, Switzerland, US and UK were included, with their annual sales ranging from $126 million to more than $60 billion and employee strengths ranging from 50 to 120,000. Eighty-five percent of the respondents stated that they suffered significant losses due to supply chain disruptions; some of them claimed that even a single disruption caused losses in excess of $500,000. Owners or managers working in asset-intensive sectors—manufacturing, logistics or utilities—know that this is where it hurts the most. Thankfully, this is set to change: digital technologies are reinventing the way asset-intensive industries function. Technologies like the Internet-of-Things (IoT), big data and advanced analytics are delivering contextualized, real-time information to enable asset managers to track the current location of goods, subsequent routes and current conditions. Powered by low-cost connected devices and sensors— which can be embedded into the supply chain to feed back critical real-time data on asset location, quality and status—these new resources will help companies greatly minimize supply chain losses and refrain from squandering competitive advantage.
Digital transformation is revolutionizing the way asset-intensive industries conduct business and has the potential to emerge as the single biggest factor in saving costs and avoiding supply chain losses.
IoT: Making Assets Data-Smart
According to a 2015 IDC press release detailing IoT predictions, almost all asset-intensive industries (namely retail, manufacturing, utilities, logistics, telematics and public sector) will see a rise in incorporating IoT-based systems, processes and modules. By attaching smart sensors (for example, Bluetooth sensors) to goods carriers, boxes, fleets or construction material, IoT-based systems can track key parameters like temperature, current location and humidity—and even check how the goods are handled during transit. This can be especially critical when it comes to consumable products such as foods, pharmaceuticals or cosmetics, where the quality, purity and condition of the product must be stringently maintained. It is estimated that globally, losses in the food industry will total more than $750 billion annually. These losses are primarily attributable to lack of proper facilities, improper handling during transit and lack of skilled or trained personnel. IoT-powered digital technology monitoring will changes this: as any irregularity will instantly trigger an alert to respective brand managers or owners, ensuring timely resolution.
Reshaping Asset Management the Smart Way
Digital transformation is revolutionizing the way asset-intensive industries conduct business and has the potential to emerge as the single biggest factor in saving costs and avoiding supply chain losses.
Centralized Control of Assets: For a mega business unit–for example, a multinational consumer goods corporation with hundreds of products spread across several countries—tracking a single package or consignment can be extremely challenging. A centralized command center or a unified dashboard that allows comprehensive visibility of all the products floating worldwide is critical for detailed monitoring, analysis and immediate reporting of issues and timely resolution.
Enhanced Business Value: Companies have frequently bled financially because they were unable to accurately track their asset status vis-à-vis the market demand, leading to lean manufacturing, supply shortages, delays and poor quality. Intelligent inventory powered by connected devices will provide managers with a real-time visibility of inventory levels across multiple warehouses that will ensure optimum product manufacturing, providing accurate promise dates to customers and an optimized manufacturing schedule. For example, Bluetooth sensors attached to packages can send alerts if any package is sitting idle, issuing a prompt for the package to be diverted immediately to a market point where there is greater demand, ensuring that the inventory is always moving.
Better Customer Experience: As the fight for acquiring greater market share becomes increasingly global and intense, supply chain operations must prioritize ensuring that their customer service is prompt, efficient and responsive. Shipments connected digitally allow companies to provide their customers with real-time tracking capabilities, which ensures that customers know exactly when they will get their product and in what condition. This is especially critical for verticals dealing with consumable goods like packaged foods, healthcare products and pharmaceuticals. Lapses in the supply chain will instantly trigger an alert to the company representatives as well as the customers, making processes increasingly transparent, saving customers uncertainty and disappointment.
Leveraging New Business Models: By transforming machines and equipment into connected devices, business owners may not only enhance process efficiencies, but also ensure user-friendly service mechanisms. For example, heavy machinery rental companies can create a billing system based on the actual work instead of the current system of number of days or months, improving cost efficiency.
IoT-powered asset management will generate unparalleled insights that will help businesses, customers and other key stakeholders to optimize supply chain function. It's an IoT-led digital transformation complementing the existing inventory management.
Krish Kupathil is founder and CEO of Mobiliya. With a track record in building and growing companies and new markets, he has carried out strategic exits, pioneered enterprise mobility, cross-OS communication and collaboration services.